Hello, I'm Rich the Creative Media Technician here at Avko Interior Paints and I want to tell you about a recent project I completed using our Ceramic Matt Emulsion.
Like many 4 year olds, my nephew loves dinosaurs, so much so, that I was asked to paint a mural on his bedroom wall featuring the 'spikey reptilian giants'. This wasn't my first mural painting; in fact, I did one right here in our office meeting room a couple of years ago featuring some elephants on the African plains. You can check out the timelapse video here.
For this project I made use of our 'Order from Another Colour Palette' service and had our Colour Analysts match a total of five different shades of green, each one progressively darker than the last. My approach was simple; the image would be constructed in layers moving from foreground to background, each layer would consist of a different shade of green with the darkest in the foreground and the lightest in the background.
Before starting I came up with the final image using some design software, but you don't need any fancy tech to do this, a simple pencil and paper can work too so long as you feel confident you know what you're going to do before you put paint to wall.
I sketched the image loosely onto the wall with a pencil. I did this free-hand but you can also use a projector, you guessed it, to project the image onto your wall. Another way is to use pre-made stencils that you can mount in place and then paint in or around. Ultimately, use whatever method you feel most comfortable with.

I used the original green that was on the wall as the lightest shade, so this formed the sky in the final mural. From here I worked from the background through to the foreground, so lightest shade through to the darkest. It makes sense to build the image up this way so that you avoid having to paint details in and around what has already been completed, plus you're placing darker shades over lighter ones so coverage is better.
Speaking of coverage, I had half a litre of each colour and this was enough to complete two coats of each shade.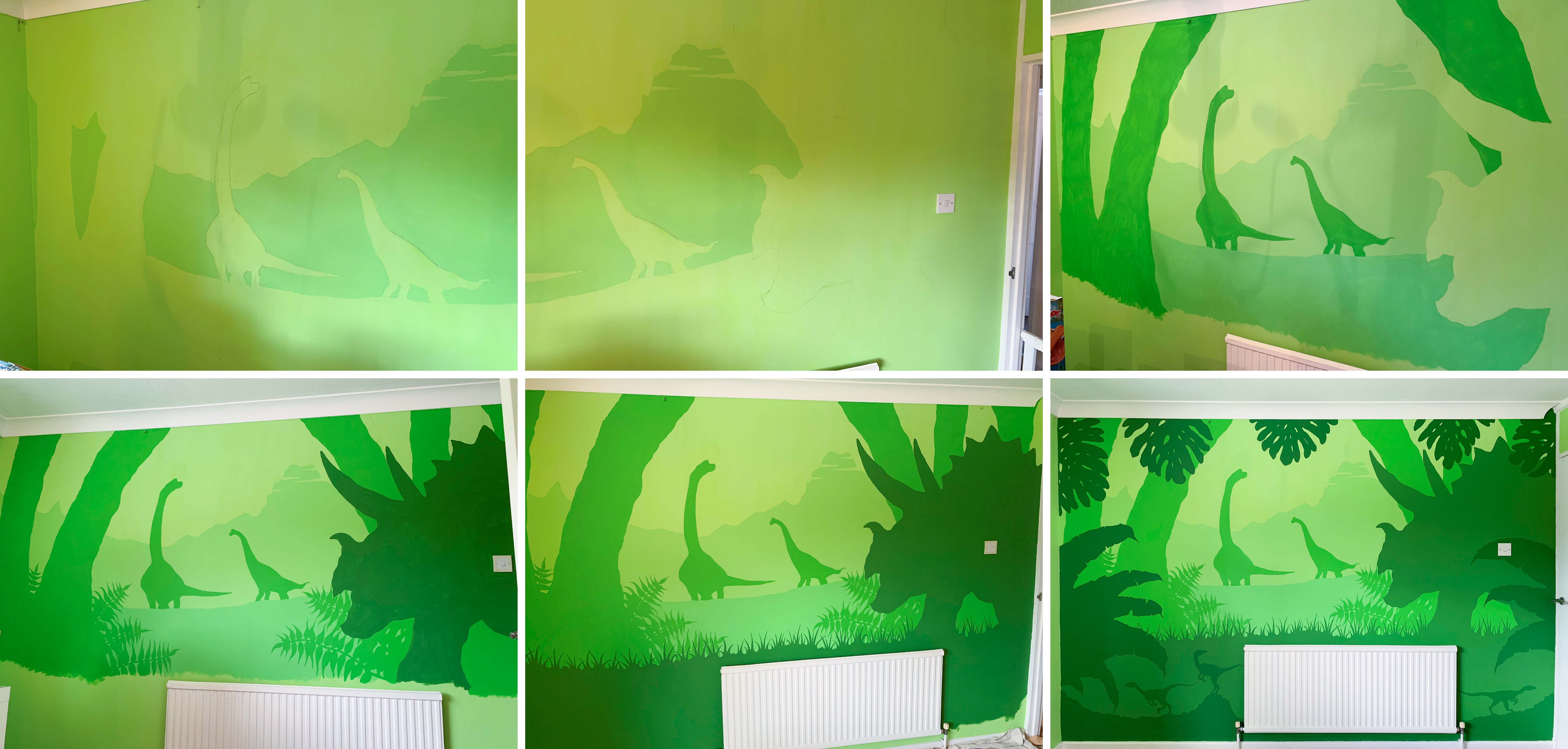 Something to bear in mind if setting out to complete a mural is that the more detailed it is, the longer it will take to complete. For example, with this one the hills and mountains took very little time to paint as they consist of little detail and the edges are relatively smooth. Contrast this with the Fern leaves, grass and tree leaves, which took much longer to complete as they include more intricate details that often required a smaller brush (and a steady hand) to finish. Don't be put off though as often these more detailed areas are what can bring your mural to life, but it's just something to bear in mind if working to a tight schedule.
Painting a mural will always take longer than opting for a flat colour approach, but once done, you'll be left with a one-of-a-kind feature wall, and something to show off to friends and family too.

Something to take from this is that you can have some fun when you're painting and decorating your living spaces, especially if you're looking to update a child's bedroom or playroom, or you run a nursery or day-care centre. Don't limit your creativity to just children's spaces, how about adding something different to a wall in your home office or a feature wall in your living room. A mural can say something about you in a truly unique way, the key is to be creative and have fun.
You can find plenty of inspiration for children's murals on sites like Pinterest or check out our Instagram page for some shots that include our metallic feature wall paint that will make your mural 'pop'.