I often get asked how I started when choosing the colour palette and décor of my lounge.
We were lucky enough to have purchased our first house that needed some TLC. It's a mid-century bungalow in Southampton. Being of that era I wanted to stay true to the house buy using an authentic palette for the lounge with my twist. Luckily enough hiding under the old carpet was a neglected Tazmanian oak floor.
The starting point.
Thinking about how the room functions and who lives in it.
Light. How much light is in the room? My lounge is east facing so it gets lots of light so a dark colour doesn't dominate it.
Being a small house with no dining space I needed to be able to dine in there and relax in there. I found a bamboo table online which was compact and great for a small space.
My husband is a bright colour probe so I had to consider both of our tastes and compromise.
I knew however that I needed yellow in my life as it's my favourite, but I used it as an accent, I knew he loved blue. My fire place was found in a rec yard and is Georgian. I upcycled my Bamboo table and decided this would be yellow. Which came up against a little mickey taking and scrutiny. I used Swanwick yellow in our Wood Paint for this. I made sure I prepared it properly by cleaning and sanding down well.
My other tips to get started and in the zone
Build an inspiration board. Or Look online for inspiration.
It doesn't need to be big, but collecting fabric swatches, pictures and textures is great idea. Pinterest is a great resource for me, but I also love tactile creation so you can explore texture and feel. you can find inspiration from magazines, television or other people's homes.
I have an eclectic taste so I have some French rococo pieces and some art deco hints so I would advise not to stay too ridged with what you love. If you love it, put it together! It's your space. Perhaps like me you've always loved a certain look or time? the Victorian era, art deco.
Find your perfect palette? But how???…

Fabric, Wallpaper, or clothing. You can pick out various colours from a paper, cushion or even clothing.
Nature. Scenes around us are full of inspiration. Sunsets, and sky lines, beaches and sands, rocks and minerals. Sand stone, chalk, slates, Greenery and Flowers: silver sages, fresh stem greens, and ferns, earthy browns, marbles and fresh whites.
Metallic elements. They are still seriously hot now so choosing a soft rose gold, brass or gold can really bring a room to life and bring a modern twist. With nature-based colours or floral bights this is always a great combination. You can translate this in your space using picture frames, vases, or wire pieces like tables and chairs. I constantly have a spray cans of coppers, golds and silvers in my shed. Keep your eye open in charity shops for old ornaments that would look great spray painted. We have a range of metallic feature wall paints that really shine! They would make a great alternative to paper and to bring in those metallics I can think of nothing better.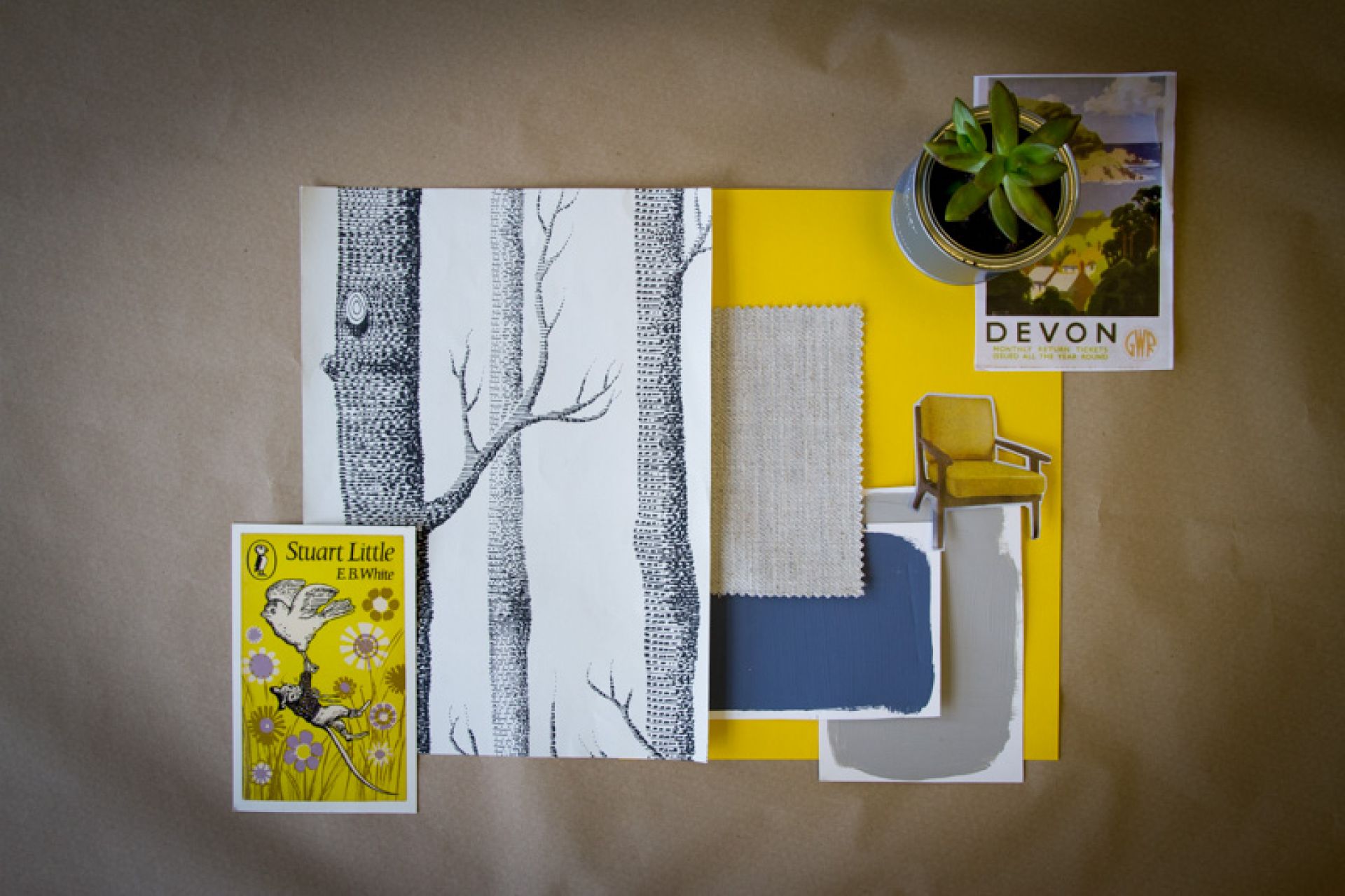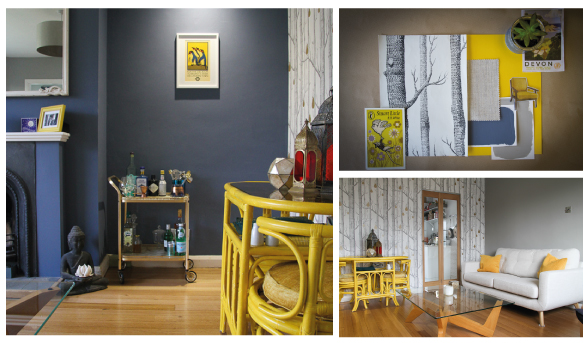 Paper & Artwork. I knew I loved wallpaper by Cole & Son London so it was a must in my new lounge. I chose woods with gold pears. It's a distinctive and iconic design that is pure 70's and really shone next to my yellow table. All of the walls were painted with a warm grey, my main blue feature wall was a bespoke colour match for me. I describe it like the dusty, chalkiness of a blueberry colour and in our matt emulsion it was gorgeous. Lovely to touch, and really translated that chalk feel. Our matt emulsion went on well, and dried nicely. Felt dense on the brush and each time I use it now I'm amazed by the quality.
The white fire place mantle and white French mirror go well with the wallpaper shade.
The feel of the room now, almost has a whimsical vibe, like a bedtime story with the deep wall and fireplace, the starkness of the woods and soft gold pears but the vibrance of yellow and blue. It seems to be a mixture of opposites, night and day, dark and light, & feminine and masculine.
Whatever you choose and wherever you start use your instincts and choose what you love and if not; change it up!! And experiment until you get there.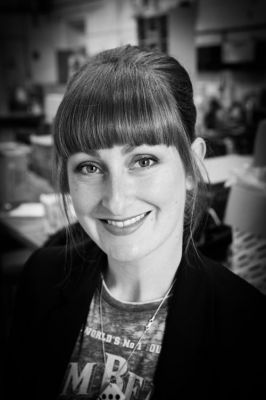 This blog was written by Clare Guille, Creative Designer for Avko Interior. Have a question for Clare, send her an email to
marketing@avkointerior.co.uk